Avanzati processori grafici SAPPHIRE con tecnologia di raffreddamento Vapor-X e overclock . Nascono dalla combinazione vincente della serie HD 5000 con la tecnologia di raffreddamento Vapor-X le due nuove schede grafiche SAPPHIRE HD 5870 TOXIC Edition e SAPPHIRE HD 5850 Vapor-X model.
La più veloce della sua categoria, la SAPPHIRE HD5870 2G TOXIC Edition è fornita già overclocked di fabbrica con velocità di 925 MHz (core) e 1225 MHz (memoria) (4,9 GHz effettivi) tra le più elevate del settore mentre la memoria frame buffer estesa di 2 GB fornisce ulteriori vantaggi nelle applicazioni più complesse. Dotata della premiata tecnologia di raffreddamento Vapor-X di SAPPHIRE, la TOXIC Edition raggiunge le migliori prestazioni a livello mondiale garantendo al contempo minori temperature operative e una silenziosità di funzionamento nettamente superiore ad altre soluzioni, sempre offrendo agli utenti più esigenti la possibilità di ottimizzazione delle funzioni.
La SAPPHIRE HD5870 2G Vapor-X Edition utilizza la stessa tecnologia core ma offre di default un clock motore di 850 MHz e un clock memoria di 1200 MHz (4,8 GHz effettivi). La tecnologia di raffreddamento Vapor-X garantisce basse temperature operative e un funzionamento molto silenzioso contribuendo a un'elevata affidabilità.
ACQUISTA ON LINE
Disponibili da marzo 2010
SAPPHIRE HD 5850 TOXIC and Vapor-X at ASBIS B2B e-Shop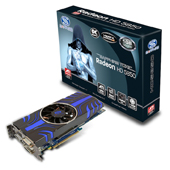 Entrambi i modelli si basano sulla HD5870 GPU che presenta la più recente architettura grafica della divisione ATI di AMD, la seconda generazione di GPU ad essere realizzata con processo produttivo a 40 nm. Supporta le avanzate funzioni grafiche di DirectX 11 con una chiarezza video, velocità ed effetti visivi spettacolari, anche con più monitor.
Con un totale di 1600 processori stream e 80 unità texture, una nuova interfaccia di memoria di 150 GB/s che supporta la memoria GDDR5 di quinta generazione, la SAPPHIRE HD5870 Vapor-X ha il doppio della potenza della generazione precedente. Questa serie è estremamente veloce con i giochi e le applicazioni in DirectX10.1, DirectX 10 and DirectX 9.0 e supporta nuovi eccezionali livelli di dettaglio, trasparenza ed effetti nelle nuove release di software che utilizzano DirectX 11. Il tutto consumando poco meno di 190 W e, con il Dynamic Power Management, una nuova modalità idle ad alto risparmio energetico.
Entrambe le schede sono dotate delle caratteristiche più all'avanguardia per supportare Microsoft DirectX 11, incluse le istruzioni DirectCompute 11, la tessellazione hardware e la comunicazione multi-threaded con la CPU di sistema. Fra queste caratteristiche avanzatissime rientrano nuove capacità di interazione fra oggetti trasparenti, nuovi effetti luce e post-elaborazione più rapida, nonché calcoli fisici e video transcoding accelerato, supportati da ATI Stream.
Tutte le schede della serie SAPPHIRE HD 5000 integrano un decoder UVD (Unified Video Decoder) per la decodifica hardware accelerata di contenuti su supporti Blu-ray™ e HD DVD sia per i codec VC-1 e H.264 che per file Mpeg, riducendo considerevolmente il carico di lavoro sulla CPU. In questa serie l'UVD è stato ottimizzato per riuscire a decodificare simultaneamente due flussi video HD 1080p e visualizzare video HD ad alta qualità con modalità Windows Aero abilitata. Anche la capacità HDMI è stata aggiornata alla versione HDMI 1.3a con supporto Dolby TrueHD e DTS-HD Master Audio.
Oltre a una chiarezza dell'immagine, una velocità ed effetti visivi spettacolari, la serie SAPPHIRE HD 5000 supporta una nuova modalità multi-monitor chiamata ATI Eyefinity. Ciò consente a una singola GPU di visualizzare una selezione di immagini su una serie di diversi monitor. Queste schede supportano fino a tre monitor, con una risoluzione massima di 7680 x 1600, aprendo interessanti possibilità non solo per il gaming multischermo ma anche per sistemi d'informazione, multimediali e display promozionali.
La serie SAPPHIRE HD 5800 è dotata del driver grafico con certificazione WHQL per DirectX 11 di AMD che supporta tutte le caratteristiche chiave di DirectX 11 richieste per nuove esperienze di gioco e per accelerare le applicazioni ad alte prestazioni della prossima generazione.
Vedi altre news sui prodotti SAPPHIRE